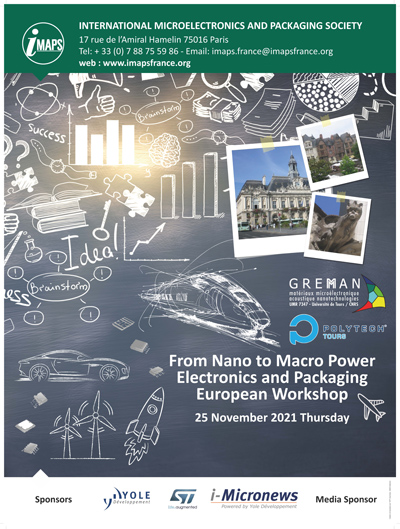 Following the success of the Power Electronics Workshop organized over the past 11 years in partnership with GREMAN (UMR 7347) and Polytech-Tours, sponsored by ST-Microelectronics, CERTeM and Polytech Tours, IMAPS-France proudly announces the 12th edition of the Power Electronics and Packaging Technical Workshop to be held in Tours, France on November the 25th, 2021. The city of Tours is located along the scenic Loire Valley which is famous for its castles built along the river. For the seventh time, the event's scope becomes international and the workshop will be held in English. Please, don't miss the date!!
TECHNICAL COMMITEE:
Laurrent BARREAU  ST Microelectronics France
Lars BOETTCHER FRAUNHOFER Institute Germany
Cyril BUTTAY AMPERE Laboratory France
Guillaume CALLERANT SONCEBOZ Switzerland
Jean-Luc DIOT Private France
Franck DOSSEUL MODULEUS France
Sébastien JACQUES GREMAN Laboratory France
Guo-Quan LU VIRGINIA TECH USA
Jürgen SCHUDERER ABB Corporate Research Switzerland
Stéphane BELLENGER ST Microelectronics Grenoble France Chairman
You can submit your abstract here.